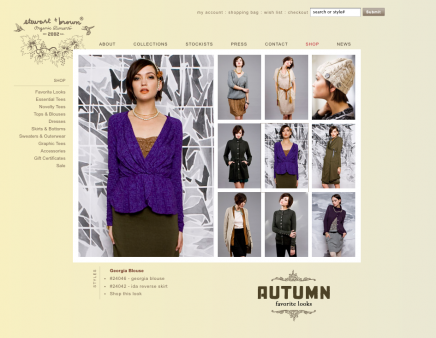 I was at Stewart+Brown for four years and in that time I taught myself how to program and write code then ended up doing much work on the website front  and back-end.  I was in charge of all development, updates and copy writing in addition to assisting with the design and marketing and making new designs based on existing templates.  I developed the site's entire front end and enabled it so that anyone in the office could make updates.  I also developed a comprehensive production tracking system that tracked all information about a garment from conception to production to sales.  Please see the rest of the page for more information about each page.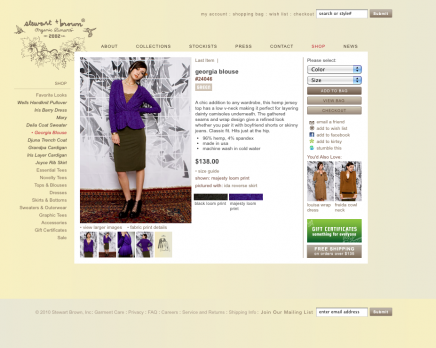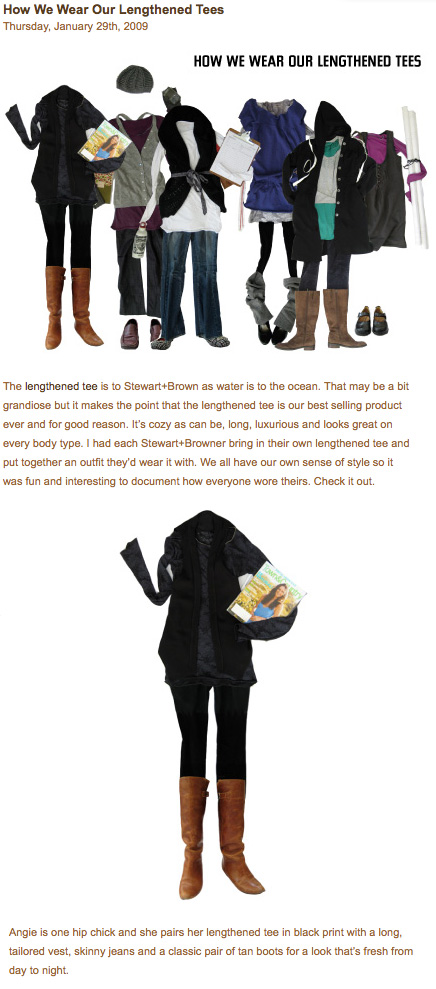 Blog Content: This is one of the favorite stories I wrote for the blog  at Stewart+Brown. We wanted to show how versatile our "Lengthened Tee" is so I sent an email to everyone in the office to make an outfit with one. The next day, I had everyone bring their clothes in and we flat shot the outfits and posted them on the website. I had each "person" holding something applicable to their position at Stewart+Brown just to mix it up. We also tied it into a contest for other readers to make outfits in an artsy fashion and I loved the response. We got a lot of really cool entries and it's always fun to interact with the people you're creating these stories for.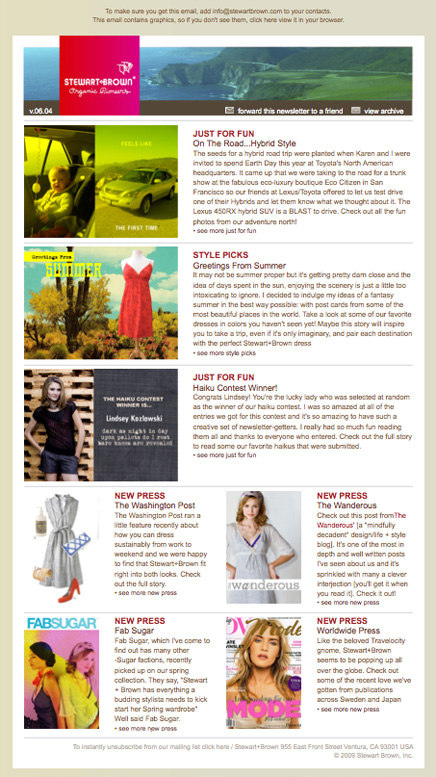 Newsletter: When it came time to create a newsletter we at Stewart+Brown needed something that would be visually compelling, informative, wouldn't take much time to create and would reuse assets already in our store and blog. Howard Brown and I worked on the design together and I wrote the code, tested it on a bigillion email clients and then built and admin tool to populate it.  I wrote an admin tool in PHP and had it query our WordPress database to auto-populate editable fields with stories from our blog.  When it comes time to publish a newsletter a user visits the admin tool and puts a number next to each post they want to include and also has the ability to edit the copy, the link and select which image from the post they want to use for the newsletter. When they click generate, a email tested and approved html page is created that they can then send via our mail manager.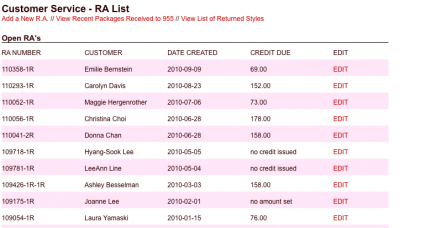 Return Authorization Admin:  Inevitably with any Estore, there are returns and we needed an efficient way to track who was returning what, who got refunded and who didn't etc.  I built this tool to keep all of that information in one shared place that we could all view.  That way, the production team could see what styles were being returned for something like fit issues and the business team could track how much money was moving around etc.  There is an additional tool that lists each returned style as well as the amount of times it was returned an the reason for each.